Manufacturing
• Acorn is the world's largest dedicated manufacturer
of stairlifts.
• Acorn is proud to be a British company with its head o ces
in West Yorkshire where it was formed in 1992.
• All Acorn Stairlifts are made in three factories, two in the
heart of Yorkshire and our main manufacturing location
in Scotland.
• We employ over 500 people in our factories in the UK.
• Our UK factories manufacture over one million
components each year, and in the past 5 years we have
invested more than £8m in new plant and machinery.
• Acorn supports other British manufacturers. For example,
we buy over 300 tons of British-made steel each year, so
helping the British steel industry at this di cult time.
• Acorn Stairlifts sell and build their own stairlifts. Our entire
operation around the world is focused on this alone.
We are stairlift specialists.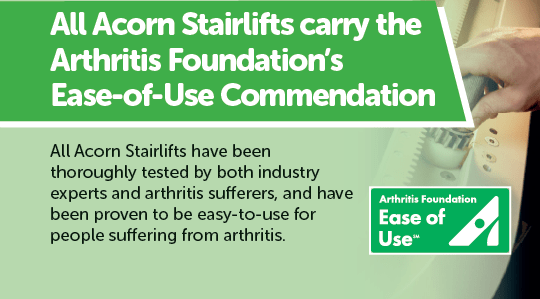 Quality
• All of Acorn's current stairlifts have been independently
tested and certifi ed to comply with the newest standards
for stairlifts
BS EN 81-40:2008 – European Safety Standards
ISO 9386-2:2000 – Worldwide Standard for Stairlifts
• This includes testing our stairlifts to a minimum of 25,000
return journeys, the equivalent of 11 years of use (assuming 6
return journeys each day).
• Third party independent o cial bodies inspect and test our
products to all international standards worldwide. Tests are
completed quarterly at our factory in Scotland.
• All of our carriages are built in Scotland, where the factory
has the ISO 9001 quality management certifi cation and the
ISO 14001 accreditation for environmental management.
• More than 20 people work in the quality assurance team
ensuring that each carriage is checked 29 times for quality
and safety during the time it is being built.
• Once built, every single carriage is loaded and driven on a
rail as a fi nal quality and safety check before leaving
the factory.
• Once the stairlift has left the factory, our dedication to
quality and safety continues. Each time we install a stairlift,
our highly trained Acorn engineers have a further 40 point
checklist in order to ensure both safety and functionality.
• Acorn is the fi rst national stairlift company to be awarded the Trustmark accreditation for installation and customer care. All TrustMark registered Firms are inspected, vetted and agree to work to Government endorsed standards of technical competence and fair-trading.
• Being a member of the British Healthcare Trades Association, Acorn has signed up to the Trading
Standards Code of Practice, demonstrating our commitment to high levels of customer care that go
above and beyond our legal obligations.
• All our call centres are based in the UK and are open 24 hours-a-day, 365 days-a-year.
• All customer contact numbers are freephone numbers.
• Acorn employs over 120 engineers, certifi ed and tested to our own rigorous training standards, with only one focus, to install, service and maintain our customers' stairlifts.
• Acorn employs over 900 people in the UK, furthering our commitment to UK jobs and the UK economy.
Awards
In the past few years Acorn has won the following awards:
EEF Manufacturing Awards
National runner-up for exports.
British Healthcare Trades Association
Best contribution to the community.
Insider Made in Yorkshire Winner
Award for Advanced Manufacturer/Technology.
BSI – ISO 10002
Renewed accreditation for Customer
Satisfaction Management.
International Business of the Year
At the UK Private Business Awards.
Yorkshire Post Excellence in Business Winner
Award for Export.